Well Mr. Forest had his 9 month checkup last week. 9 months. What? It is so hard to grasp all the stages that he has already surpassed - I keep trying to lock little details away so that I don't forget what it was like have little babies in the house! Really I just need to take a bit more video I think since it captures them so well.
Forest is starting to scoot. Well, he actually started scooting backwards (Army style) on his tummy about a month ago, but is finally showing a tiny bit of forward progress. He pivots like clock hands quite well on both his tummy and his bottom. So at least he access to a 30" radius of toys now instead of just what is directly in front of him. Of course all that pivoting and reaching inevitably results in a few goose-eggs on the good ol' Saugen noggin... but once the initial shock he gone he usually forgets all about the little bruises he has on his forehead. That's what we get for having hardwood floors.
According to the good old growth charts, Forest is pushing 19.5 lbs (~30th %) and 28 inches long (~40%)... he is so tiny as compared to my roly poly Oly at that stage! Well at least his huge head is on track still, at 19 inches around (~off the chart), he is definitely pacing Olaf. Hopefully he grows into it someday :)
We are in the midst of party planning 'round here -- Olaf has a shared birthday party with his cousin, Micah, on the 12th. Then my bday on the 15th (#30, whoa!) and a party on the 18th, and then Oly's actual birthday on the 20th. And then throw in Fathers Day on the 19th as well. I plan to be eating a LOT of cake in the next phew weeks. Booyah.
My mom and sisters and I did the Susan Komen 5k run for breast cancer research in Seattle yesterday - so much fun! We all actually jogged the whole thing, minus just a few blocks that momma walked. Of course she walks so danged fast it was pretty much my running pace anyway. Favorite part of the run - dance jogging past a little brass band who was playing "The ants go marching one by one" as we ran by. Felt like doing a little jiggety jig :)
This was mom's 4th walk I think, my second, and Kirsten and Kendra's 3rd. It's becoming a tradition for us girls I think. We walk to celebrate my mama, who has been breast cancer free for 13 years now!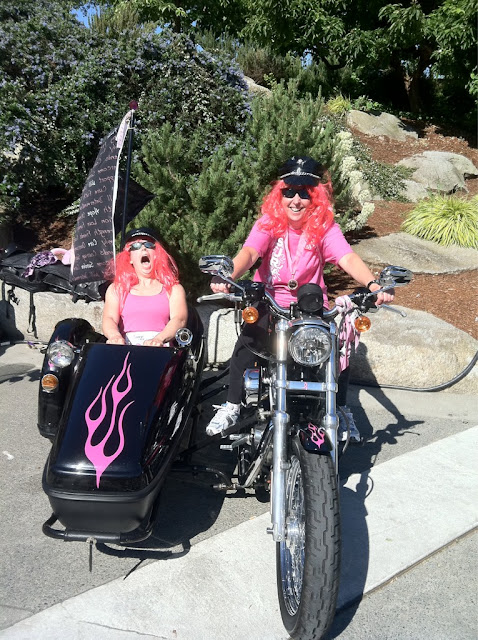 Mom hopped on the Harley for a little ride while I chose the sidecar. The thought of her actually driving that thing was terrifying, as my face shows :)